Ascension & St. Mark
Episcopal Church
Wise County, Texas Welcomes All
Sunday Morning
Morning Prayer: 9:30
Worship: 10:30
Children's Sunday School
Nursery Available
Please join us.
5094 US HWY 380
Bridgeport, TX 76426
(940) 683-6321
Between Decatur and Bridgeport on the north side of US HWY 380.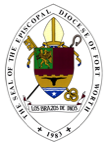 Anglican worship differs from many other traditions with its greater structure and its expectation of significant participation by the congregation.  This guide is intended to assist newcomers quickly become familiar and comfortable with the worship service.
Keep your service leaflet open and ready for use at all times.  It contains "cues" about what comes next and what your role will be.
Anglicans in general:  (a) stand to sing, hear the Gospel, recite the Creed, (b) kneel for prayer , confession,  and much of communion, and (c) sit  to learn and meditate.  The service leaflet provides direction.
Communion is offered every Sunday.  All baptized Christians, including children, are welcome to receive the Sacrament of Holy Communion at the altar. To receive the Bread, cup your hands together, palms open and lifted. To receive the Wine, assist the server in guiding the chalice to your lips. If you do not want to receive wine, cross your arms over your chest. If you choose to not share the common cup, hold the bread in your cupped hands. The server will dip it into the Wine for you. Anyone not receiving the Sacrament is welcome to receive a blessing at the altar rail; please indicate that intent by crossing your arms over your chest.   You are free to remain in the pew if you do not wish to receive Communion or a blessing at the altar.
Gestures such as crossing oneself, bowing as the Cross passes your row, kneeling, etc. are intended to enhance worship and  do  not serve as a mark of piety.  If you're not comfortable doing these things, it is not required. Each of these gestures  has deep roots in tradition and are used because they have deep meaning to the individual worshipper. 
 Making the sign of the cross is an ancient tradition dating back to the earliest days of Christianity.  It is used in homage to the sacrifice of Jesus on the cross and our participation with him by virtue of our baptism.
Bowing as the cross passes and kneeling are almost universal ritual gestures of homage, honor, reverence and worship. References to kneeling in both the Old and New Testaments remind us that kneeling is an ancient sign that expresses worship, respect, willing obedience, prayer, reverence, petition, supplication and homage.  
Everything in the service—dress, gestures, words—is done for a reason.  To gain a deeper understanding of this, we recommend that you talk to others or the priest. Remember that we were once new, too! Your questions remind us of why we worship as Anglicans. That's a good thing! 
Many people in our parish are not Anglicans from birth, having chosen this tradition as adults.  We hope that you, as they have before you, find this a deeply satisfying way to offer your worship to God.
Should you wish to know more about the Anglican Church or how one becomes an Anglican, the priest will gladly answer your questions and suggest the way to membership.