Ascension & St. Mark
Episcopal Church
Wise County, Texas Welcomes All
Sunday Morning
Morning Prayer: 9:30
Worship: 10:30
Children's Sunday School
Nursery Available
Please join us.
5094 US HWY 380
Bridgeport, TX 76426
(940) 683-6321
Between Decatur and Bridgeport on the north side of US HWY 380.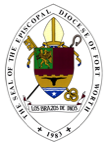 Beyond Wise County
Each week, The Most Rev. Dr .Foley Beach, the current Archbishop of the Anglican Church in North America, publishes a one-minute snapshot message. You can find those at A Word from the Lord and subscribe so they come to your mailbox each week. It's my 'minute with God' every Wednesday!
Diocese of Ft. Worth: You can always find our diocesan website. Click the picture of the Diocesan Shield on any page of the website to go there.
Senior Care of Decatur (not available during pandemic closures of eldercare facilities)
is an outreach ministry begun about 6 years ago. The facility had just opened in Decatur and had no Easter Service planned. One of our members who worked there was very upset.
Our priest did the first service alone. After that, a group grew to love this ministry. Join us any Sunday at 8:45. It's a service of 'old-time gospel hour' music, prayer and a lesson, ecumenical in nature, but liturgical in form.