Ascension & St. Mark
Episcopal Church
Wise County, Texas Welcomes All
Sunday Morning
Morning Prayer: 9:30
Worship: 10:30
Children's Sunday School
Nursery Available
Please join us.
5094 US HWY 380
Bridgeport, TX 76426
(940) 683-6321
Between Decatur and Bridgeport on the north side of US HWY 380.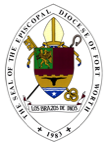 Stay in touch...
Be sure to fill out the new information sheet to be sure you are on the mailing list for church mail. See Anna for details.
To receive church emails, send an email to this link. You will be sent instructions to finalize your sign up. To email the entire parish family, use the address in the confirmation email you received.





2018 Bishop's Committee Members
Nancy Johnson, Sr. Warden / Butch Haas, Jr. Warden
Joyce Beard, Tank Clark, Clay Murphree, Carren Ziegenfuus


Thursdays
Bible Study, 6 p
Rite 2 w/Healing Unction, 7 p
Thank you for your participation
in
Holy Week and Easter Services!